Over time, sun exposure can trigger fine lines and wrinkles, like laugh lines and crow's feet, and create uneven pigmentation or melasma anywhere on our bodies, most commonly on our arms, back, chest, neck, and shoulders. These discolorations and early aging symptoms can make us feel like covering up the parts of us that once made us feel confident.
Located in sunny Huntington Beach, California, SoCal Lazer & Medi-Spa knows a thing or two about treating sun damage. Our office is equipped with the latest treatment technologies to reduce or remove sun spots, freckles, wrinkles, and melasma.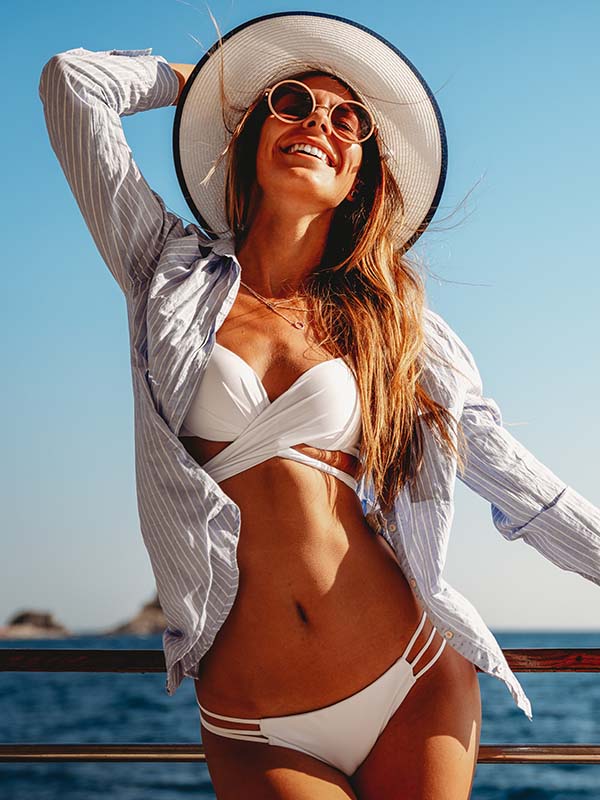 How the Pico Laser Can Help
The Pico laser is a safe and effective way to treat pigmentation problems large and small, and it can be used on all parts of the body. Named "Pico" for the picosecond—one trillionth of a second—this laser sends faster-than-lightning pulses of energy into the skin to dissolve discoloration, promote healing, and boost collagen production.
What sets this laser apart from similar technologies is its quick, effective, yet gentle process. Without using heat or burning the skin, this laser breaks up problem pigments and particles, which your body naturally eliminates after treatment. The intense, targeted beams also stimulate collagen and elastin production, two proteins that help provide a fuller, brighter look to your skin.
Benefits of Using the Pico Laser
As one of the most advanced laser technologies available today, Pico treatment comes with a variety of benefits:
Reduction or removal of brown spots, uneven pigmentation, and unwanted freckles
Improved appearance of fine lines and wrinkles
Firmer skin
Increased collagen production
More even complexion
Non-invasive and non-surgical procedure
Little to no discomfort during treatment
Minimal recovery and no downtime
Who is Eligible?

The Pico Laser can be a wonderful option for adults unhappy with visible signs of sun damage, including fine lines and wrinkles, unwanted freckles, melasma, and sun spots. Though you may need to schedule more than one treatment to achieve your desired results, the process is quick and gentle, allowing you to get back your daily activities without disruption to your busy schedule. And because the Pico Laser uses energy rather than heat, it can be a safe option for those with darker skin tones, unlike some other laser treatments.
Your provider will perform a thorough examination and assessment of your skin during your first consultation, and together you can decide if Pico Laser treatment is right for you.
Pico Laser treatments can be completed in as little as 15 minutes, depending on the size of the area being treated. Your provider will pass a handheld laser device over the target area, which will emit ultra-short bursts of energy to break apart pigments and stimulate collagen to reduce fine lines. Most patients feel little to no discomfort during the process, comparing it to a tingling sensation.
During your consultation, your provider will recommend a schedule of treatments for your unique goals. Some patients see results in only one visit, while larger areas can require up to 6 visits. Treatments are typically scheduled 2–4 weeks apart to give your skin time to completely recover.
Because the Pico Laser uses energy rather than heat, you can return to your daily activities straight away. You may experience some mild redness and swelling for a few hours after treatment, but this should subside within 24 hours. Try to avoid scratching or rubbing at your skin during this time, and make sure to always use proper sun protection!
Sun Damage Therapies in Huntington Beach, CA
Brown spots, melasma, and wrinkles may represent the sun's dark side, but at SoCal Lazer & Medi-Spa in Huntington Beach, we have a variety of methods to help brighten your outlook. When you're ready to take the next step toward a smoother, healthier-looking complexion, schedule a consultation with our team.