For some, facials are a rite of passage. Others think of facials as a regular bit of self care and relaxation. But these days, facial technology offers deeper exfoliation, cleansing, and relaxation than ever before. Far more than just a handful of lotion and a scalp massage, these facials offer science-backed skincare solutions that also just happen to feel wonderful on your skin and to your spirit!
At SoCal Lazer, we pride ourselves on our facial offerings with traditional facials, Hydrafacials, and even the OxyGeneo™ facial—the latest in a long line of skincare advancements. Whichever facial you choose, you can rest easy and relax knowing that both skin and spirit are in excellent hands.
Hydrafacials clean your face at depths you didn't even know possible. Throughout the 5 steps of the hydrafacial process (cleansing/exfoliating, chemical peel, extraction, customized care options, and serum application) the skin on your face is rejuvenated from top to bottom.
As we sweat, shed old skin, and grow new skin, old skin cells, toxins, and oils pile up. HydraFacials make way for new skin cells by scouring, hydrating, and promoting collagen production. This allows new skin to grow softer and bouncier while also healing new and old scars faster.
Like hydrafacials, the OxyGeneo™ facial makes the most of several steps throughout the process.
Step 1: Exfoliate
OxyGeneo™ exfoliates the upper skin layer to remove dead cells and prepare the skin to receive active nutrients.
Step 2: Infuse
OxyGeneo™ creates a chemical reaction between the patented Capsugen™ capsule and nutrient-rich gels. This chemical reaction produces countless CO2 bubbles which gently burst on the skin's surface. Through ultrasound, skin permeability is increased for maximum infusion of essential nutrients.
Step 3: Oxygenate
OxyGeneo™ produces a CO2 rich environment on the skin's surface, creating a physiological response, sending oxygen-rich blood to the treated area. This natural oxygenation results in an increase of capillary blood flow and metabolism of essential skin nutrients in the skin.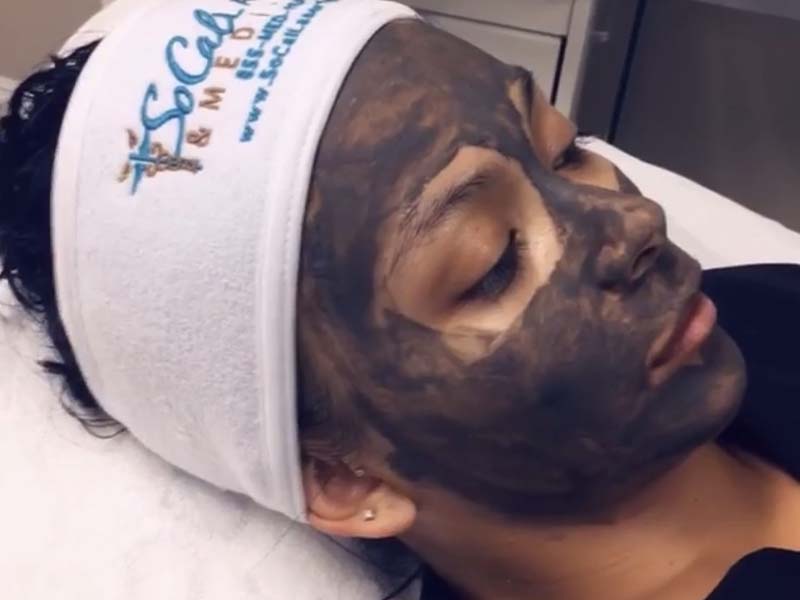 Benefits of Hydrafacials & OxyGeneo™
Facials of all kinds have numerous benefits, but the facials at SoCal Lazer go further by offering:
Deep exfoliation
Lasting skin hydration
Improved skin texture
Improved radiance
Increased antioxidants
Increased oxygenation
Opens pores
Boosted collagen production
More even complexion
Reduced fine lines/wrinkles
Too many more to list
Who is Eligible?
At SoCal Lazer, our facials are safe for people of nearly all ages and genders. If you have fine lines/wrinkles, chronically dry skin, old scars that won't heal, or lusterless skin, our facial options may be perfect for you. In most cases, those with active rashes on their face are discouraged from facials until the rash heals. But beyond that, our facials welcome all callers.
There are numerous differences between hydrafacials and OxyGeneo™ facials, but the primary difference has to do with CO2. Hydrafacials pump CO2 into the skin while OxyGeneo™ facials draw oxygen from the skin. Beyond that, your physician should help you choose the facial that's right for your needs.
After just one hydrafacial treatment, you should notice an almost immediate difference in the quality, complexion, and health of your skin. Many patients report textural and visual benefits after just one treatment with even greater benefits with each additional treatment.
Like hydrafacials, the benefits of an OxyGeneo™ facial are immediately noticeable. Better still, OxyGeneo™ results begin to provide a cumulative effect with each additional treatment, meaning that—at a certain point—results and benefits can persist for upwards of 3 months. 
State-of-the-Art Facials in Huntington Beach, CA
No matter which facial variety you prefer, the benefits on offer at SoCal Lazer are bound to delight you. Whether you're making an appointment for relaxation, skincare, or cutting-edge skin rejuvenation, there's a facial to match your mood at SoCal Lazer! Schedule a consultation today to find out which of our amazing facials best meets your unique desires.
Request An Appointment Today